Tentang Universitas Tazkia
Tentang Institut Tazkia
the management of the Tazkia Cendekia Foundation which was established based on Syarif Tanudjaja's Deed No.5 of March 11, 1999. Tazkia Islamic University College believes that only an economic system guided by the laws and provisions of Allah SWT is capable of equitable public welfare. As the name implies, namely Tazkia, Tazkiyyah, Tazkia Islamic University College seeks to encourage the ummah's economy to purify. This effort is carried out through productive, effective, and efficient innovations accompanied by efforts to nurture alms and alms giving fruitful results for the welfare of society. Tazkia seeks to educate and produce generations of Muslims who have the competence and commitment to do business and creation while maintaining input of purity, the process of purity, and the output of purity. In the spirit of growing and purifying this,InsyaAllah, Muslims are able to succeed in the field of economics and business.
Lokasi Kampus Tazkia
Kampus Alif:

Jl. Ir. H. Djuanda No. 78 Sentul City, Bogor 16810 Indonesia Telp. +62 (21) 87962291-93

Kampus Ba:

Jl. Raya Dramaga Km.7 Dramaga, Bogor 16680 Indonesia Telp. +62 (251) 8421076
TAGLINE
Pelopor Bisnis Digital Syariah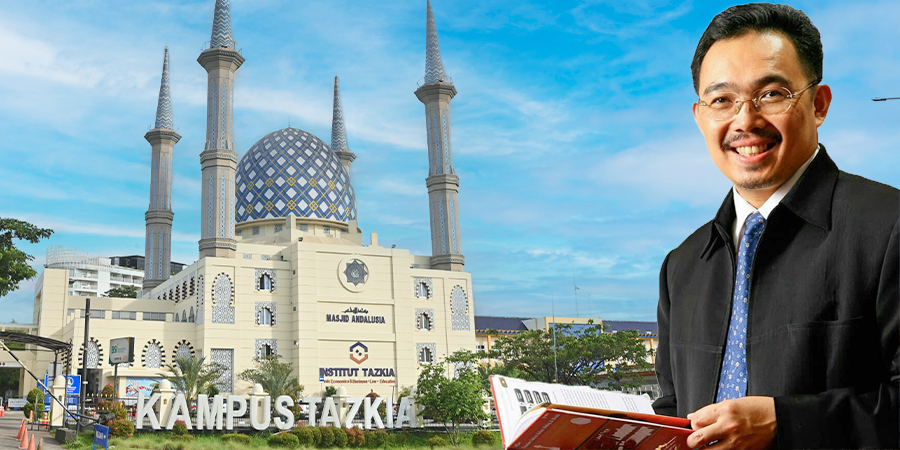 Mission
Tazkia and students share a passion for engaging with communities around the world, and Tazkia University provides innumerable opportunities for them to pair passion and knowledge in ways that both enrich their academic.
Mengembangkan dan menyebarluaskan ilmu pengetahuan di bidang ekonomi, manajemen, dan keuangan yang berlandaskan nilai-nilai T.A.Z.K.I.A.

Menyediakan lingkungan kerja yang kondusif bagi pengembangan profesi dosen dan karyawan.

Mendidik akademisi, wirausahawan, dan profesional kelas dunia yang mengedepankan prinsip-prinsip tauhid, nilai-nilai etika dan empati kepada masyarakat.

Mewujudkan jaringan alumni tazkia di seluruh dunia untuk memberikan kontribusi maksimal bagi umat.
Vision
A UNIVERSITY OF CHOICE FOR FUTURE WORLD-CLASS BUSINESS LEADERS AND INTELLECTUALS IMBUED WITH T.A.Z.K.I.A. CHARACTERS BY 2025
Global impact
Global opportunities
Administrative offices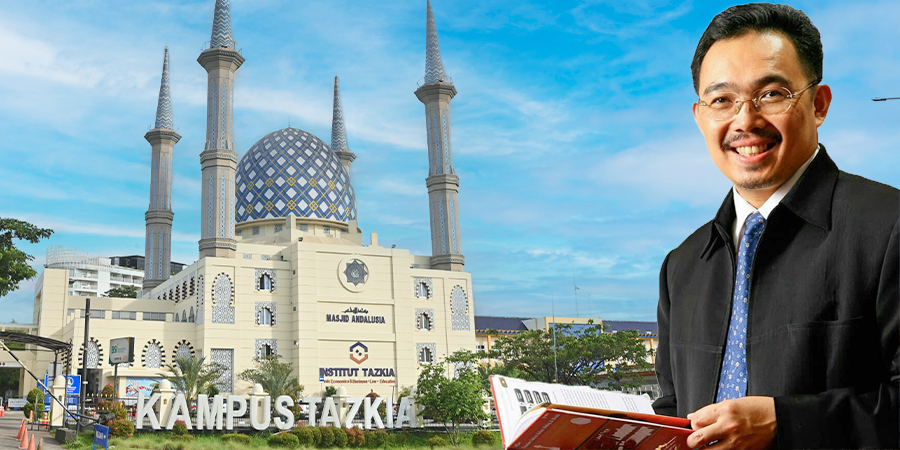 T Tawheed, tidak ada tuhan selain Allah SWT
A Amanah
Z Zero defects and quality-oriented
K Knowledge-based and competence-oriented
I Innovation-oriented and Istiqamah-based
A Achievement through teamwork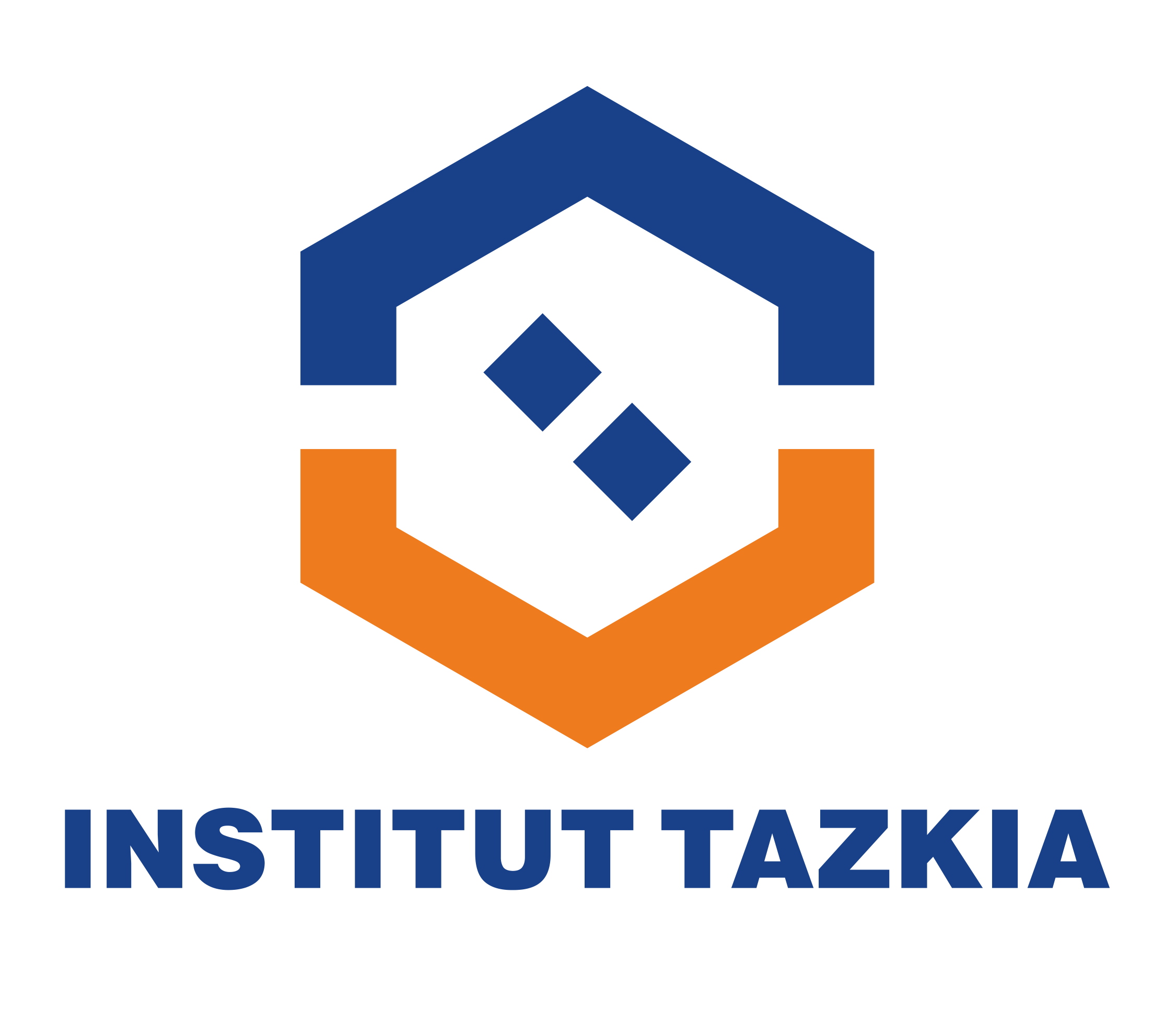 The logo of Institut Tazkia is based on a diamond shape that reflects the ideal economic situation, where most of the population fills the middle class, led by a few wealthy classes, and only a fraction of the less fortunate classes.
The diamond shape consists of two Arabic letters of ta (ت). The first ta means a growth based on purity. The second Ta represents Tarbiyah, a regeneration process of quality growth in order to strengthen the implementation of the Islamic economic system that symbolizes the solution to achieve the ideal economic conditions.
The blue colour reflects the intelligence, stability, solidarity of Islam (ukhuwwah) as well as robust integrity. The Orange Colour Reflects the Innovation, Dynamic, & Bright Future of Islamic Economics.
MARS OF INSTITUT TAZKIA
L/S: Rudy A. Fattah
Satukan Langkah Padukan Arah
Jagalah Amanah Teguhkan Fitrah
Jadilah Profesional Sejati
Penggerak Ekonomi Syari
Bangunlah Negeri, Tumbuhkan Prestasi
Baktikan Diri
Dengan Ridla Ilahi Rabbi
Bersama Kita Trus Melangkah Pasti
Dirgayahulah Institut Tazkia
HYMNE OF INSTITUT TAZKIA
L/S: Rudy A. Fattah
Dengan Niat Tulus Suci, Bertasbih Pada Ilahi
Berlandaskan Akhlaq Mulia, Ditempa Semangat Baja
Diiringi Doa Penuh Ikhlas, Panjatkan Seberkas Harapan
Jayalah Institut Tazkia, Jayalah Indonesia
Berikan Satu yang Terbaik, Dalam setiap langkah mu
Tunaikan Tekadmu, Rahmatan Lil 'Alamin
Semoga Allah Merestui, Segala Asa Cita Kita
Jayalah Institut Tazkia, Jayalah Indonesia
Jayalah Institut Tazkia, Maju, Maju Terus Maju
Aplikasi Al Qur'an Tazkia
Marilah kita mengisi hati dan pikiran kita dengan membaca Ayat suci Al Qur'an, yang penuh dengan hikmah dan kebenaran serta obat bagi jiwa dan kehidupan kita.
Marilah kita mengisi hati dan pikiran kita dengan membaca Ayat suci Al Qur'an, yang penuh dengan hikmah dan kebenaran serta obat bagi jiwa dan kehidupan kita.